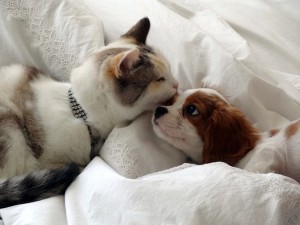 So much research has been done on the benefits of Vitamin C, and dogs on a regimen of this vitamin are much less likely to develop hip dysplasia, spinal myelopathy, ruptured disks, viral diseases and even skin problems.  Cats will benefit too, as it can help prevent urinary tract infections and kidney disease. Wendell O. Belfield, DVM. Author of How to Have a Healthier Dog, had over fifteen years of clinical experience, and after working with over two thousand animals, saw that dogs definitely benefit from extra Vitamin C in their diet.
There's so much to say about the powers of Vitamin C and its antioxidant properties. There is no doubt that it helps support bones, teeth, ligaments and joints.  I have seen animals who walked with limps, or could not get up the stairs rebound beautifully with mega-doses of this vitamin, and if your cats are prone to urinary tract problems, this amazing vitamin is sometimes a total lifesaver!
I must admit that my own pets don't care much for the sour properties though, so I have to artfully camouflage ascorbic acid in their favorite treats or mix it in with their stew. I prefer a powder or a liquid supplement because I question the dubious ingredients in a tablet, (which may contain binders and fillers) and don't even have to be listed on the label!
When supplementing Vitamin C, consider splitting the daily recommendation into three or four doses per day.  I recommend splitting a meal or a snack into two portions and serving them at different times to accommodate giving your pet Vitamin C mixed into its food several times a day.  By supplying more frequent doses, you ensure that your pet's body is provided with Vitamin C for longer periods of time, enabling it to use as much as it possibly can.  The doses below are for general maintenance. It's fine to double these dosages during times of stress or for overcoming specific ailments.
Pet's Weight                 Amount of Vitamin C
2 – 10 pounds                    up to 625 mg per day
11 to 25 pounds                 up to 1,250 mg per day
26 to 50 pounds                up to 2,500 mg per day
51 to 100 pounds              up to 3,750 mg per day
Over 100 pounds              up to 5,000 mg per day
Dosage Tip: Always start with a small amount of Vitamin C and slowly increase the dose every few days until you work your way up to the ideal amount.  Adding too much Vitamin C all at once, before the body is used to it, may cause loose stools or an upset stomach.
Not all vitamins are created equal.  Remember to always use a product that is human-grade and, as with any supplement; if the product is high quality, you should expect to notice some marked improvements in your own pet's health. Keep in mind that Vitamin C alone is not a panacea.  You will certainly need other vitamins to keep your pets in peak condition, and that vitamins should be carefully chosen for your individual pet's needs.