The Holistic Pet Plan
My simple eight-week program was carefully developed to introduce the elements of a Holistic Pet Plan in a natural order for creating a healthy pet. The basic principles help make you keenly aware of the inside of the body, the outside of the body, and the total environment. By following the program, you can transform your pet step-by-step, each week adding a new element while continuing those from the previous weeks. It's important to follow the program in order, and also to keep detailed notes about what you experience, so I've created a Whole Pet Journal, complete with three important forms: a Weekly Checkup list, a Whole Pet Portrait, and a Week at a Glance chart.
These easy reference tools will guide you and your pet through the eight weeks (with ease), providing tips and insight every step of the way, along with easy-to-make recipes and remedies. Each of these chapters begins with a small, thoughtful project that will help broaden and deepen your understanding of whole pet health.
In addition to food fundamentals, we'll cover the importance of essential fatty acids, choosing the healthiest treats, the benefits of sunlight and regular exercise, the power of green foods, boosting the immune system, and the glorious art of the spa.
Throughout the book, I'll share my methods with you and explain the changes and challenges that are likely to occur as you follow these guidelines. More important, I'll help you understand the reasons behind the practices and provide you with insights to assist you on your journey. Throughout, I'll share with you heartwarming, true pet stories, so you can see for yourself, what other healing artists have experienced with their own cats and dogs. You're never alone with my book.
After you complete the Whole Pet Diet eight-week program, you'll be able to use your journal as a handy reference tool. It's my hope that many a useful page will be dog-eared so that you can easily find the recipes and remedies you'll need. Chances are you already know your pet needs my eight-week plan. But if you're still not sure, please take the following quiz.
The Whole Pet Health Quiz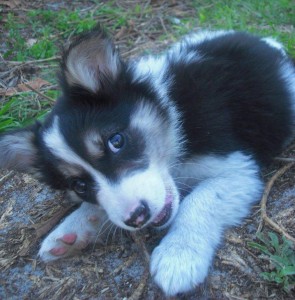 Does your pet have a paunch?
Does your pet shed regularly, or only twice a year during shedding seasons?
Does your pet have mobility issues?
Does your pet attract parasites, like fleas, ticks, and worms?
Does your pet have skin problems?
Do you leave food down all day?
Do you feed dry food?
Do you give more than one treat at a time?
Does your pet's food contain by-products?
Does your pet's food contain sugar, corn syrup, or other derivatives?
Does your pet's food contain ethoxyquin, BHA, BHT, or other chemicals?
Do you use chemicals of any kind on your pet, including flea control products?
Does your pet have a greasy coat, especially around the tail?
Does your pet's energy level need improvement?
Does your pet vomit regularly?
Does your pet exhibit digestive problems, such as irritable bowel syndrome or constipation?
Does your pet eat ravenously?
Does your cat have litter box problems?
Does your pet eat potted plants or grass?
Does your pet have offensive body odors or bad breath?
Does your pet have any chronic eye or ear discharges?
Is your pet a couch potato?
Do you visit the veterinarian more than one time a year?
Does your pet have diabetes?
Does your pet have kidney disease or has it experienced kidney failure?
Does your pet have tumors?
Has your pet been diagnosed with allergies?
Has your pet been diagnosed with an immune deficiency disorder or an autoimmune disease?
Does your pet have bad breath?
If you answered yes to two or more of the questions, you and your pet need to read The Whole Pet Diet. Whether your pet has seemingly minor problems, like skin irritation, or more serious ones, like diabetes, feline leukemia, or even cancer, you can create a healthier pet. This book's eight-week plan will guide you down a surprisingly short path to health and wellness for your sweet one.
It's NEVER too late to eat well! Order a copy of The Whole Pet Diet for your best friend today!