"Doc" Holiday is a magnificent Border Collie Mix, who was literally down on death row in one of those "kill shelters" deep in the heart of Alabama, with his two twelve week old siblings; Jangle and Jubilee. Fortunately for "Doc", Andi (and you)…a wonderfully intuitive rescue group called "The Dog Liberator" was able to whisk them away at the eleventh hour, and (GET THIS!) – flew them all on a private plane which landed them in a fabulous foster home in Orlando in March of 2011. Andi had been scanning the internet for a new baby, saw this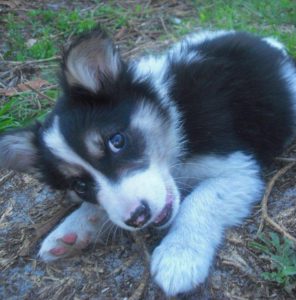 photo of Holiday and it was a match made in heaven! She wasted no time, drove nearly three hours to meet him and together they left on a journey of love.
Now, just because Andi wrote a wonderful cook book for pets…and espouses the benefits of a natural, homemade diet, she's not ashamed to tell you that just like so many of the pet lovers that she helps, she's often "time challenged" to make food for her own pets. Andi wanted to create an experience that was easy for pet owners to embrace, so she continues to develop a lot more recipes for Holiday, that are quick and time saving, and shares them on her blog. They travel a lot, so it's important that his foods and snacks can be transported and made really quickly. Make sure you sign up for her newsletter and get a copy of the book, so you're kept in the loop when it comes to great food for your pets.
Doc's Stew® consists of all great ingredients you would want for the rest of your family. This new and updated recipe is the mainstay of all her pet's diets and comes with over thirty years of feedback from thousands of fans and the input they've given. All of the incredibly delicious ingredients in Doc's Stew® are easy for the body to absorb, utilize, assimilate and eliminate. It's filled with nutrient dense foods that help support the body's ability to heal. The quality of this formula is so superior to anything else your pets have ever eaten, that you won't have to add a long list of vitamins to make your pets absolutely GLOW with great health!
When feeding a homemade, balanced diet, you'll marvel at difference Doc's Stew makes in in a very short time. You'll see it in their coat, skin, energy level and all around wellness. Great nutrition does make an impact and helps the immune system to develop disease resistance and support all the organs, so your dogs and cats will live longer, more joyful lives. There has never been a pet food this delicious and nutrient dense and of course Andi loves to brag about being able to even eat it herself! And that's how Doc's Stew® was born!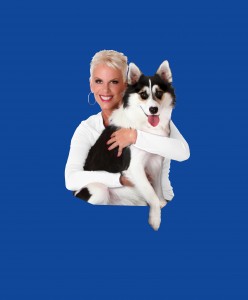 Who says a rescue dog can't make it big in this world? "Doc's" job now is happily patrolling the borders of the pet food community, making sure there's healthy, wholesome food for every cat and dog to love and thrive on!
"Doc's" ultimate mission is to help get more homeless animals adopted all over the world. You'll be hearing a lot from him, the bond they share and in the coming months we'll be reporting more great news about helping the animals and the people who love them.
Take a closer look at the newest Doc's Stew recipe for great food here:
Like Us on Facebook!