Once you see the remarkable changes that take place when you feed your pets real, wholesome, healthy, natural and human-grade quality foods – you'll never want to go back to anything else. Whether you opt to make your own foods, supplements, treats and grooming aids from the recipes in my book, or you buy my products already made – your pets will enjoy much happier lives right away!
Real Health is Unmistakable. You'll see it in every aspect of their being; their skin, coats, eyes, ears, energy levels, mobility and disposition. You hold in your hands the ability to make your pets well. Always remember that food is the foundation of life.
I look forward to hearing your own true pet stories along the way, so that others may benefit from the wisdom you've gained.
Please keep in touch and "Make Every Day – A Holiday!"
xox
Andi Brown, and "Doc" Holiday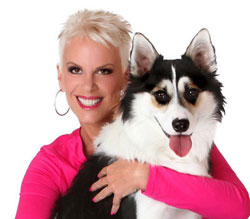 ---
Feel free to contact Andi about the recipes, or her book:
The Whole Pet Diet
35246 U.S. Highway 19, North
Suite 321
Palm Harbor, Fl. 34684
E-mail your questions to:
andi@thewholepetdiet.com