Delicious, Healthy Homemade Snacks for Dogs or Cats make Every Day Feel Just Like A Holiday!
"Master Chef", Voyko loves to pamper pets just as much as I do. He indulges the whole family with lots of wholesome food and treats! When you're shopping ingredients, organic is best of course, but you can use what you find affordable and convenient. This delectable treat is definitely a crowd pleaser for any dog or cat, so make sure you have plenty to share when the neighbors arrive!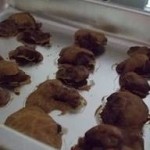 Ingredients
3 pounds Organic Chicken or Turkey Liver
Fresh or dried oregano
Fresh or dried rosemary
Minced Fresh Garlic
Directions
1. Preheat the oven to 325 degrees Fahrenheit.
2. Place the liver on a large baking pan and sprinkle the herbs on top.
3. Bake for about 45 minutes.
4. Remove from the oven and let cool, then dice the liver into 1-inch cubes.
5. Put a few ounces into individual zip lock bags, and freeze the portions that won't be eaten right away.
Your healthy, homemade treats will stay fresh in the refrigerator for two to three days and up to a month in the freezer. Here's a photo of our kitchen at home with Voyko on the right. Everyone likes to ask if the pets behaved or if they're photo shopped. The only one who didn't behave that day was Voyko himself! (Notice the attention he always gets).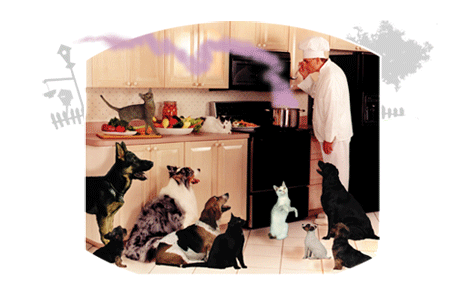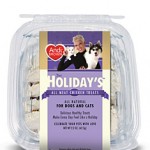 Healthy snacks make every day feel just like a Holiday! When you don't have time, or you're on the go…make sure you always have "Doc" Holiday's All Meat Chicken Treats. They're everything you want in a snack: Real meat protein, wholesome, fresh and delicious! Click here to find out more about them.