Let your pets "live it up" with the rest of your family with wholesome holiday dinners! In the right proportions, your human holiday feast can be the perfect meal for your furry friends too! Sharing is truly caring, when it comes to real food.
We can start with a few slices of traditional holiday turkey, a spoonful of simple green bean casserole (or other vegetable choice), and a dollop of sweet potatoes.  Sweet potatoes are extremely nutritious and don't clog the digestive tract like regular potatoes. They're wonderfully flavorful, full of vitamin A, calcium, iron and other important minerals. Sweet potatoes also strengthen the spleen and pancreas and help the body release toxins.
While the components of the foods you choose can be somewhat interchangeable, please never feed pork to any dog or cat; it's more difficult to digest than fowl. Follow the rules of thumb for feeding with the following guidelines for balanced ingredient proportions. Keep your meals (for your pets) free of spices, using only simple ingredients and try not to overfeed, even though they're going to love it a lot! Remember to Love AND Feed Your Pets With Wisdom!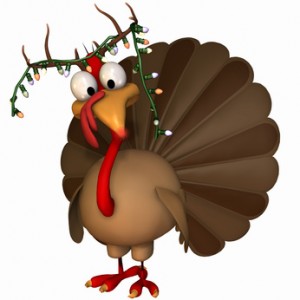 Ingredient               Dog Portion                      Cat Portion
Meat (turkey, chicken)         40%                                         65%
Vegetables                         55%                                         35%
Yummy Stuffing                    5%                                        None

Helpful Hints:The best vegetables for your pets are alkaline and won't give them gas or upset the tummy. Use squash, zucchini, celery, green beans, carrots, but avoid broccoli, cauliflower and corn (which is hard to digest)!
Please avoid the cranberry sauce too. It's loaded with sugar, which can upset their digestive system and cause loose stool! (This won't be fun for anyone later on).
Of course you'll NEVER feed chocolate or alcohol to any dog or cat. (These can be toxic and cause fatal reactions)
For Cats: Skip the grains entirely. Grains tend to make their bodies alkaline and holistic veterinarians recognize that grains can lead to urinary tract, diabetes, and kidney problems. By mashing your cat's meal with a fork, (or puree it altogether) – you'll ensure they'll eat all their veggies which help them to process the meat protein purrrrfectly!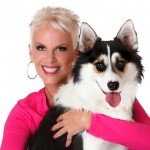 Make Every Day A Holiday with Healthier Pets!
Xox
Andi Brown & "Doc" Holiday