Food: The Foundation of All Life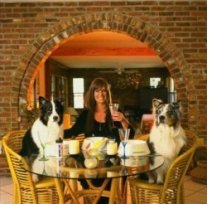 Dear Pet Lover:
Thanks for reading The Whole Pet Diet Newsletter.
Since we last connected I've been super busy helping lots of you transition to homemade foods for the pets you love. I often hear that the rest of the family is eating better too!
When I look back in time, I realize how very lucky I was as a kid. We had dinner as a family nearly every night of the week. My mother's nutritious, balanced meals were the reason we were almost never sick. That was the way it was in our home at a time when there were a whole lot more healthy people in this country.
Since then, we have fallen off our healthy food "balance beams". Dinners with clients, grabbing a bite in a fast food frenzy, and life sometimes gets in the way of the things that make us look and feel our best. Exercise, rest, healthy meals can go by the wayside. Same goes for our pets. We used to believe that the easy, store bought commercial foods we fed were actually good for them. They might have claimed "all natural", or even boasted "holistic", and some even tried to fool us that their rice or other fillers were actually human-grade. Most are not...
We Can't Forget!
Remember the 2007 pet food nightmare? Menu Pet Foods recalled more than 100 brands including Iams, Eukanuba, Hillís Science Diet, Purina, Mighty Dog, and many generic brands including Wal-Martís. The FDA reported over 17,000 cases of sick animals, and an estimated 20% died from acute renal failure caused by the tainted food. Soon after, the manufacturers claimed their products were safe, and people went back to buying their same old foods. Sadly, I continue to hear about recalls from my Vet on a regular basis.
Our Journey: The Next Step
It's easy to see why so many of our pets are still suffering from skin problems, allergies, infestations, organ failure, diabetes, obesity and cancers. We've let our guard down and have forgotten that Food is The Foundation of Life. With wholesome, healthy, natural, balanced ingredients, everyone looks and feels better!
Over the next few months, you'll be hearing about my new vision to make your pets' lives even better! As we start this sojourn, I'd like to ask you for your help. Please take a moment and ďLikeĒ us on Facebook, subscribe to this Newsletter and follow me on Twitter. I'm excited about the future, so please email me your thoughts and personal insights. I hope that together, we can make our animals' world a better place to live.
Wishing you and your pets: great health, always!
Andi Brown
-author of The Whole Pet Diet
& founder of Halo, Purely for Pets
Organic Egg Breakfast Scramble Recipe
You say there's no time for a healthy breakfast? Come on. I know you've got an extra five minutes to ensure you and your pets start your day out right! This is easy, economical and you can share it with your entire family too! Here's what I do when I'm on the run!
Depending on your pet's size, and how many mouths you're feeding you'll modify the recipe to accommodate appetite.
For a cat, or a small dog - you'll need:
1 organic egg
1 heaping tablespoon of organic cottage cheese
1 small clump of alfalfa sprouts
1/2 tsp. of flax seed meal
1 teaspoon of butter
Directions:
Whip the egg, cottage cheese and sprouts together with a fork. Heat up a small pan on low and add the butter, so your eggs don't stick. Scramble your egg mixture, gently stirring with a spoon, add the flax seed meal as you go. Remove your scramble from the pan and let it cool down to room temperature before you serve.
For a medium sized dog, double the recipe above, and for a large dog, you can triple the amount. I'll make this nutritious, high protein power breakfast twice a week. Don't forget to prepare enough for the rest of the family, and Bone appetit!
Visit The Whole Pet Diet for more healthy pet recipes.

I hate to admit it, but none of my dogs were ever great on a leash. They seemed to always get the better of me, and because they were large Ė it was especially hard on my own neck and shoulders. Then I discovered a brand new device called The Walk in Sync Training System. Within five minutes (and Iím not kidding), this comfortable harness had my 12 year old Australian Shepherd Jasmine, walking down the street with me like a proper lady. (her, not me!) You bet I also got one for my newest Border Collie puppy, Holiday right away!
Alecia Evans, (the inventor) understood it was possible to develop a training tool that not only worked quickly and effectively but completely respected and honored your dogís body and intelligence and made training a stress free, humane, pleasurable and rewarding experience for everyone! This comfortable harness teaches your dog to back off of pressure in a such an effortless way that it seems like the dog is training itself, without ever choking them! (Might make you want one for your spouse:)
If youíve got a puppy, or even an older dog who needs to "know a new trick", make sure you visit her website and learn a thing or two yourself, about the Humane Way To Train!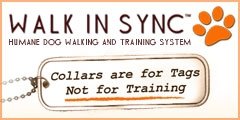 Click here to visit Walk In Sync
About Andi and
The Whole Pet Diet
We're REALLY EXCITED about The New Whole Pet Diet Website! We've gotten a make-over, connected to Facebook, Twitter, and all of our fans. Check it out!
Submit Your Own Recipe and Make Your Pet a Star!
WOW! Kitty -Now that's really something to rave about!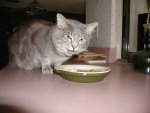 Have you got a great recipe for a Nutritious Stew, a Healthy Mini-Meal, or a Scrumptious Treat? My next book is filling up with fabulous recipes and super quick short-cuts to help you save time, money, and still feed your pets the best.
If your own recipe is chosen for the book, you and your pets will be featured in a photo, along with the story about why you began your healthy, home made food journey and we'll share your fabulous fare with everyone else who loves their pets too!.
Submit your recipe and your story (about 500 words) and show the world how much you care.
PawPoints Tip: Obesity - A BIG Problem
Pet's got a paunch? Are they "pit bullying" him at the dog park again?
Tuxedo cat looks more like a bowling ball?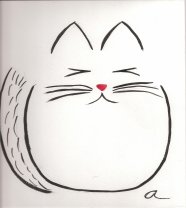 Sure, you've tried everything.
Reducing diets, withholding treats, counting calories, even... uggghhh Slentrol - the prescription diet pill developed for pets a few years back.
We need to take the bull by the horns and recognize the real culprits in pet foods. Grains like corn, wheat and rice wreak havoc on their systems. Senseless carbs to fill up a can or a bag make the pet food suppliers TONS of money at the expense of our babies. Most overweight pets are eating dry food diets.
Time to get on the simple Meat Protein and YUMMY Veggie plan. I've never, ever seen an overweight pet on my program, and your pets are going to thrive.
Give it a month and see the difference yourself. The proof is in the pudding, or the stew, or the soup or any one of the fabulous recipes in my book. Oh yes, and a jog around the block won't hurt anyone either. Get out my book and move it! Summer's here, so strut their stuff on the beach this year.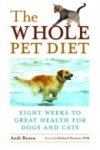 Order The Whole Pet Diet for a Friend
Give the Gift of Love
Amazon's Got GREAT Deals