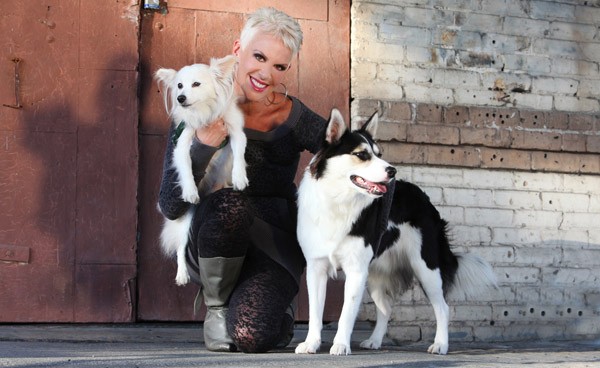 Andi Brown, the author of The Whole Pet Diet is known internationally as the Pioneer of the Holistic Pet Care Industry. In 1989, she raised the bar for pet food makers by manufacturing the first line of natural pet foods made in a USDA facility. Her "human-grade food" –food for pets that was actually fit for human consumption – was featured on "20/20" and Good Morning America and gained her a national audience. She developed several unique product lines and is the original founder of Halo, Purely for Pets.
Andi believes that Food is the foundation of all life. Over the years, she has worked with thousands of pets and their owners to show them the direct correlation between unhealthy "pet grade" foods (containing fillers, chemicals and by-products), and the myriad of health problems including allergies, skin problems, digestive disorders, eye and ear issues and even obesity that many pets experience.
It took some time, but Andi's common sense philosophy slowly became mainstream as more and more people realized they could alleviate many of their pets' health problems through a better diet. The demand for high quality, natural food and health care products took off – BIG TIME.
In 2006, after over 20 years of teaching people how to have healthier pets, and providing them with the best products ever created, Andi sold Halo and retired to spend more time with family and friends. But she soon discovered that even with the development of the new, seemingly "healthy" products like Raw Food Diets, Holistic Foods, Natural Brands, Chubs, Organic, Gluten Free, Breed Specific, Indoor-Outdoor, Prescription Diets, Low Carb, No-Carb, Canned, Kibbled, Baked, Freeze-Dried, and even Grain Free Foods, people were still writing to her on a way too regular basis to see if she could help their sick pets. She realized that many manufacturers had changed their advertising but had not improved their products. No one was producing food in a high quality USDA kitchen right here in the USA.
Andi encourages everyone to cook for their pets. Companies change, ingredients get sourced from other countries and no one is minding the store. If your pets are not glowing with great, vibrant health right now, then it's time to stop trusting the food makers and become one yourself. Andi believes that there is nothing about the body that cannot be changed or improved when you give it the right nutritional support.
Roll up your sleeves today and become the Holistic Pet Healer you were meant to be. The Whole Pet Diet book will show you how to have the healthiest dog or cat imaginable and vet bills become a thing of the past. It's easy and makes a "whole" lot of sense!
Make Everyday a Holiday and Celebrate your own Pet's Great Health!
Feel free to contact Andi with any questions you may have and be sure to sign up for her Newsletter and Holistic Pet Care Guide; filled with useful information for all your pet's needs.
xox
Andi Brown & "Doc" Holiday
Media Contact and Appearances